Top tools for Designers to work from home – The year 2020 have seen the highest spike in remote working trend. During this difficult period, when the Corona Virus has locked us in our own homes, we have to protect ourselves by adapting to the trend of remote working.
However, working at home have its own problems which are as follows:
Difficulties of working from home
No more office meetings
Less possibility of brainstorming of ideas
Not finding a creative outlet
No more get-togethers
Feeling isolated
Dealing with distractions and interruptions
Difficulties in prioritizing works
The Solution
Thanks to the digital world, we have a lot of remote work tools available on the internet for developers/designers to use. These tools bridges the gaps between communication and allows you to work collaboratively even if you are sitting in different corners of the world.
Now don't let Corona Virus impact your work lives with these ready to use smart tools. Break the stereotypes by working productively and staying happy as well at your home.
Here is a list of best work from home tools for developers and designers to overcome the Corona Virus work crisis:
Work from Home Tools for Designers
1) Slack
Slack is like a virtual office for your remote team. It brings the team together, wherever you are working from.
How it Works? – Slack provides interactive chat rooms and allows you to organize communications in dedicated spaces called channels. The channels are organized on the basis of projects, topics, teams, and direct messaging. Slack is a good alternative to using emails where conversations are mostly organised and focused.
Why is it good? – With all of your communication organised in one place, remote teams will stay productive with less chaos while working remotely. The team gets a shared view of task progress and task completion on a real-time basis.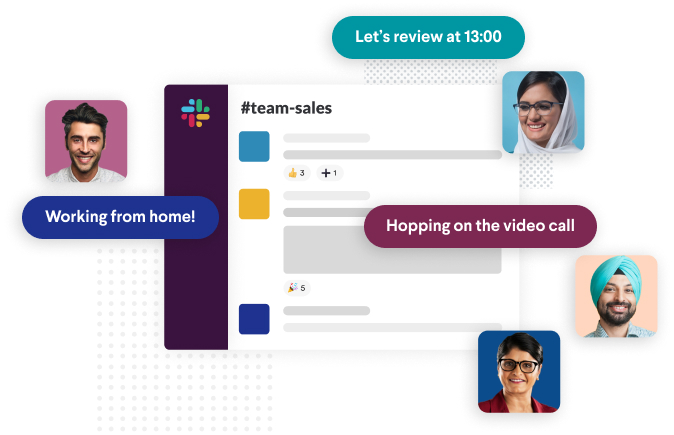 Official Website: https://slack.com/intl/en-in/
Pricing: Free (for small teams), Pro version starting from $2.67 per active user, per month, when paying once a year.
Trusted By: Trivago, Vodafone, Shopify, Treebo & more
2) Google GSuite
G Suite is a suite and collection of cloud computing, business, productivity, collaboration tools, and various software and products developed and powered by Google.
How it works? – The primary G Suite tools include Gmail, Drive, Docs, Sheets, Slides, Forms, Meet, Chat, Duo, Calendar, Classroom, Groups, Sites, and Keep.
Gmail – Gmail is a web-based email service
Drive – Upload file to the cloud, share with others, and access from any device
Docs, Sheets & Slides – Docs, Sheets and Slides are all collaborative software to view, edit and share documents, spreadsheets and presentations respectively in real-time.
Forms – A survey administration app which collects information from users via a personalized survey or quiz.
Meet – A video-communication service where you can share your video, desktop, and presentations with teammates.
Chat – An instant messaging service with both text and voice communication
Duo – Highest quality video calling app that brings you face-to-face
Calendar – An online calendar to keep track of time, meetings, events and schedules.
Classroom – An easy-to-use tool used by teachers to manage coursework and bring learners at one place.
Groups – A service providing discussion between groups of people sharing common interests via a shared user interface
Sites – An easy to use tool to create and edit websites without any prior coding knowledge
Keep – A note-taking service for saving and sharing notes in text, images, and audio format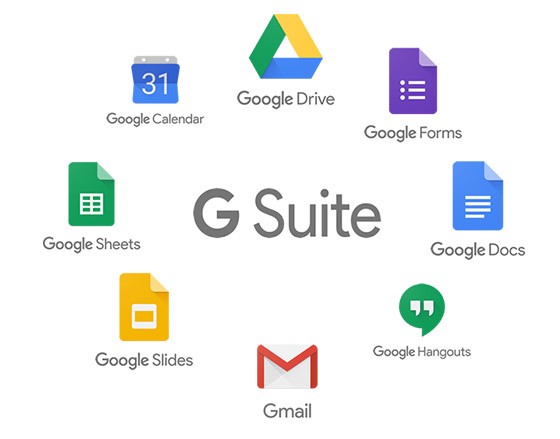 Why is it good? – These services are free to use for Google users. G Suite also provides enterprise features of custom email addresses at a domain (@yourcompany.com). Other benefits include unlimited storage (depending on the plan), instant backup, 24*7 support, advertisement-free, advanced security and privacy settings. G Suite is a one place solution for all your productivity tools and requirements with the safety of Google.
Official Website: https://gsuite.google.com/
Pricing: Free, Basic Version starting from ₹125 INR /user/month
Chosen By: All Nippon Airways, Whirlpool, DB Corp, & more
3) Trello
Trello is a web-based Kanban-style board which keeps track of everything. Trello lets you work more collaboratively in a remote work environment.
How it works? – A Trello board is a board full of lists, filled with cards, used by you and your team. Under a card, you can assign tasks to team members, add comments, attach files, create checklists, add labels and due dates, and more. Trello's boards, lists, and cards enable you to organize, assign and prioritize your tasks to your team in an easy and flexible manner.
Why is it good? – Trello boards are infinitely flexible, incredibly easy and free to use. You can assign tasks to your team members by just dragging and dropping them to the cards on Trello board. Trello works in real-time. When somebody makes any changes to the card, it reflects on your board instantly, and you will also know about every change with Trello's notification system.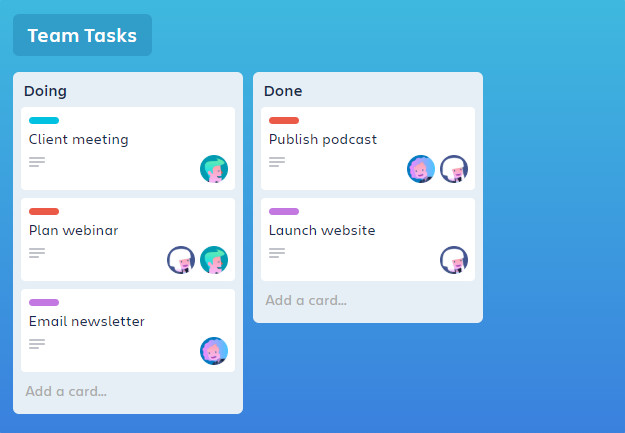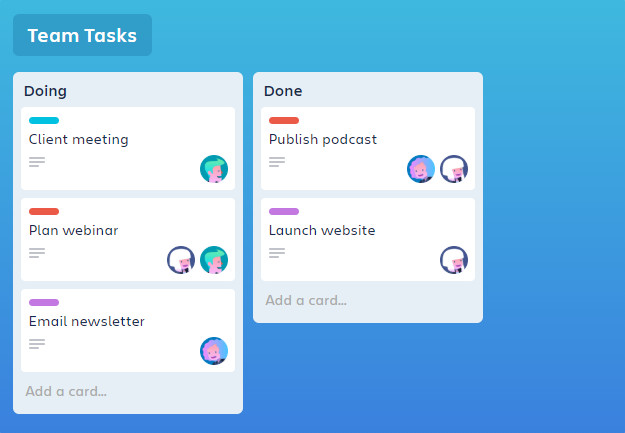 Official Website: https://trello.com/
Pricing: Free
Trusted By: Google, Squarespace, Bose, Pinterest, & more
4) ProofHub
ProofHub is an all-in-one project planning software where all of your productivity tools are organized under one place.
How it works? – If you are tired of installing different productivity tools with lengthy registration process and higher collective premiums, here is how ProofHub comes in. Proofhub allows you to focus on your project planning with all the right productivity tools put at one place. Using only one software, you can timely plan, organize, collaborate, and deliver projects while working with your remote teams.
Why is it good? – Under ProofHub, you can use Kanban board to assign tasks and track workflows. You can use Tasks to assign work to multiple members and tracking deadlines. You can use Chats to have real-time communication between team members, and much more. You can also integrate ProofHub with apps you already use. Basically, ProofHub is a replacement for your 6-7 productivity apps so that you have to pay only at one place. It saves time, cost, creates less chaos, and makes your work more organised.
Official Website: www.proofhub.com
Pricing: 14-day free trial, Essential — $45/month
Trusted By: Netflix, Google, Pinterest, Trip Advisor, & more.
5) Whereby
Whereby is a one place solution for all your video meeting needs with no necessity to log in or download. Plus it's free.
How it works? – On Whereby, you can join with just a click. No downloads or registration is required. Create your room by choosing a simple room link and share that custom link for anybody to join. You can add up to 50 people in a call. During the meetings, you can also chat with your teammates.
Why is it good? – With Whereby, you can do video meetings, video conferencing, screen sharing, screen recording, chatting, and much more. It's the easiest and fastest method since it requires no login or downloads. You can also join the meetings anytime from your phone (via browser or iOS app) for free.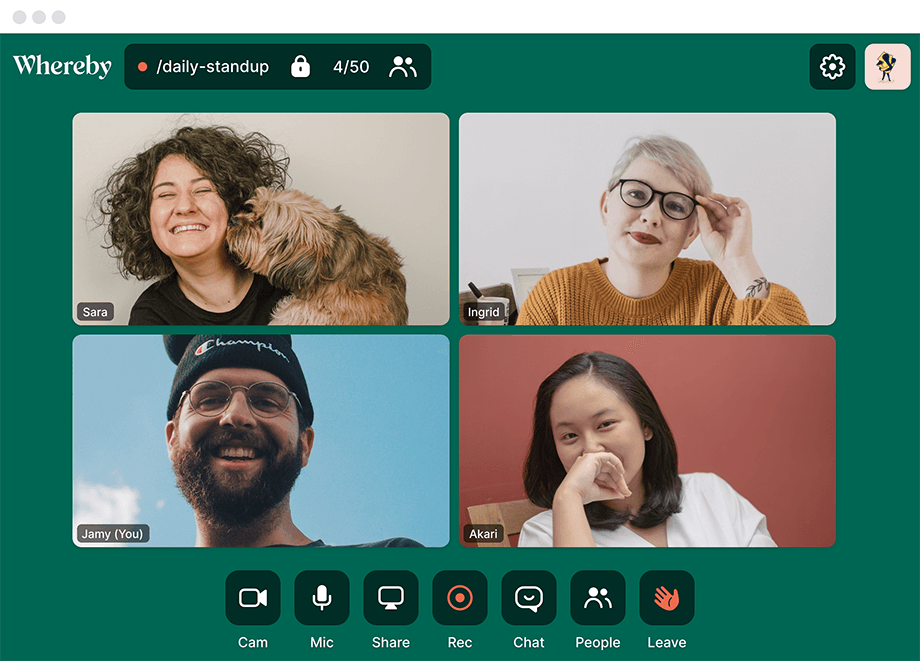 Official Website: https://whereby.com/
Pricing: Free (1 user, 1 meeting room), Pro (1 user, 3 meeting rooms) $ 9.99 / month
Trusted By: Ranked as #1 easiest to use tool on G2 Crowd
6) AWW App – Touch, Draw, & Share
AWW App is the simplest online whiteboard for business and education.
How it works? – Designers, developers and teachers can use this online diagram tool for having their ideas drawn, making sketches, or explaining any concept with hand-drawn images. You can visualize your idea, organize your code and see a big picture with the zooming option. It supports multiple members for realtime visual collaboration. Use AWW board to draw sketches, get feedback directly on your design and chat real-time with your team.
Why is it good? – This tool is the easiest to use amongst all and it also doesn't require any registration or login. When you just click the link, it goes directly to the very first whiteboard for you to start. You can also share your board or invite any members with a simple URL link – no need for your clients to register. It saves time and makes you productive.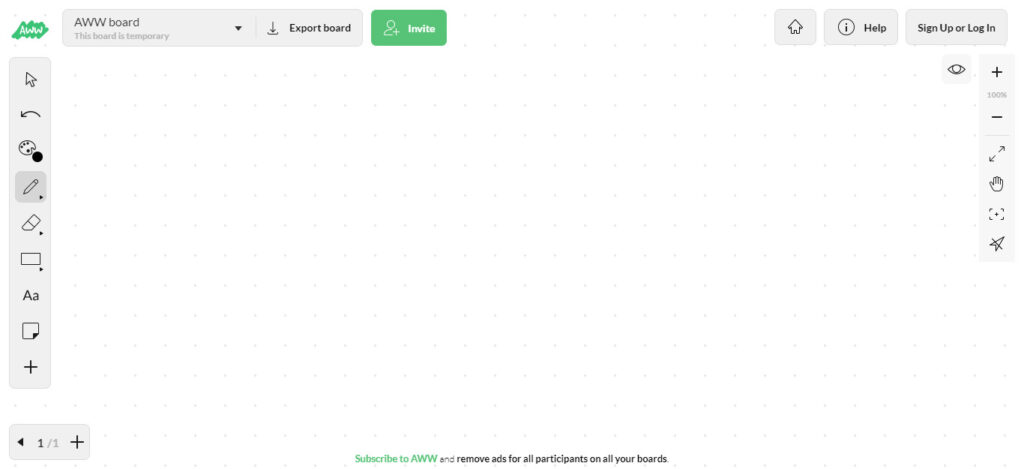 Official Website: https://awwapp.com/
Pricing: Free, Pro starting from $ 10/month
Trusted By: Adobe, Oracle, Google, Workday, & more.
7) Figma – Where Teams Design Together
Figma is a collaborative interface design tool, vector graphics editor and prototyping tool.
How it works? – Figma help teams create, test, or share designs and gather feedback all in one place. With Figma, build better products as a team. Figma provides various design features plus unique inventions like the Arc tool and Vector Networks. Use animated prototypes to bring your ideas to life and get insights from users in real-time.
Why is it good? – Figma is fast. With Figma, it's easy to share designs among your teammates, so collaboration is easy. It is a one-place solution for your design team to work together in a real-time manner. Collaborate no matter where you all are in the world and make co-editing interesting. Figma is also available for any platform and switching is easy. Stay productive with remote designing on Figma.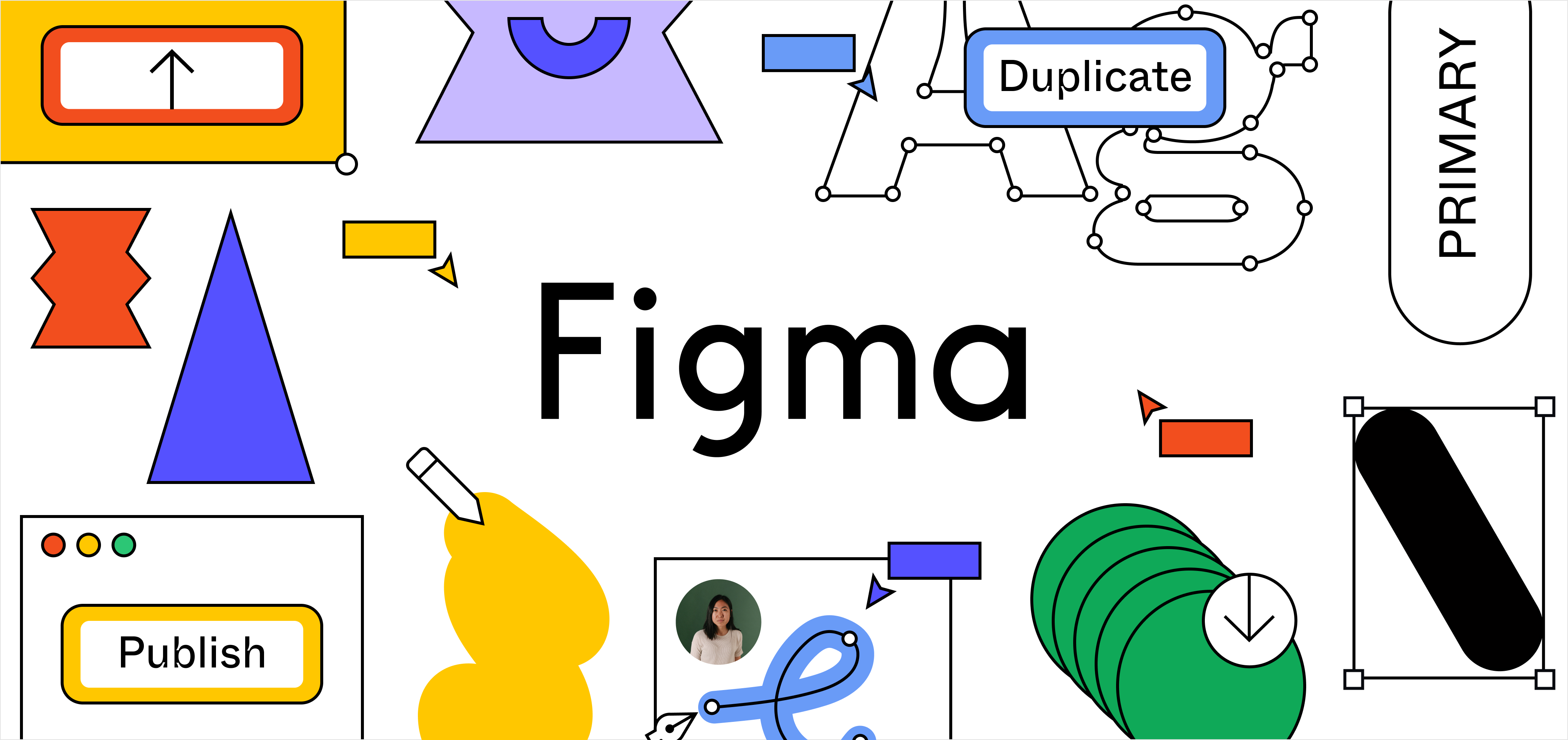 Official Website: https://www.figma.com/
Pricing: Free (for up to 2 editors and 3 projects), Pro starting from $12 per editor/month
Trusted By: Twitter, Dribbble, Buffer, Zoom, & more.
8) Riot team chat
Riot team chat is a free and easy to use communication tool. It can be used for casual chats to high powered collaboration.
How it works? – Riot.im is a free and open-source communication software based on the Matrix protocol. With Riot team chat, you can create and organise rooms, chat, share files, add widgets, make calls (video/audio) and hold conferences. It has all the features of instant messaging, emoji, GIF and image support.
Why is it good? – Riot team chat supports end-to-end encryption of messages, groups, channels and file sharing between users. It is a universal secure chat app with widespread compatibility and privacy. You can download Riot.im for your computer (desktop app) and as a mobile app for Android and iOS. You can also use it simply on a browser.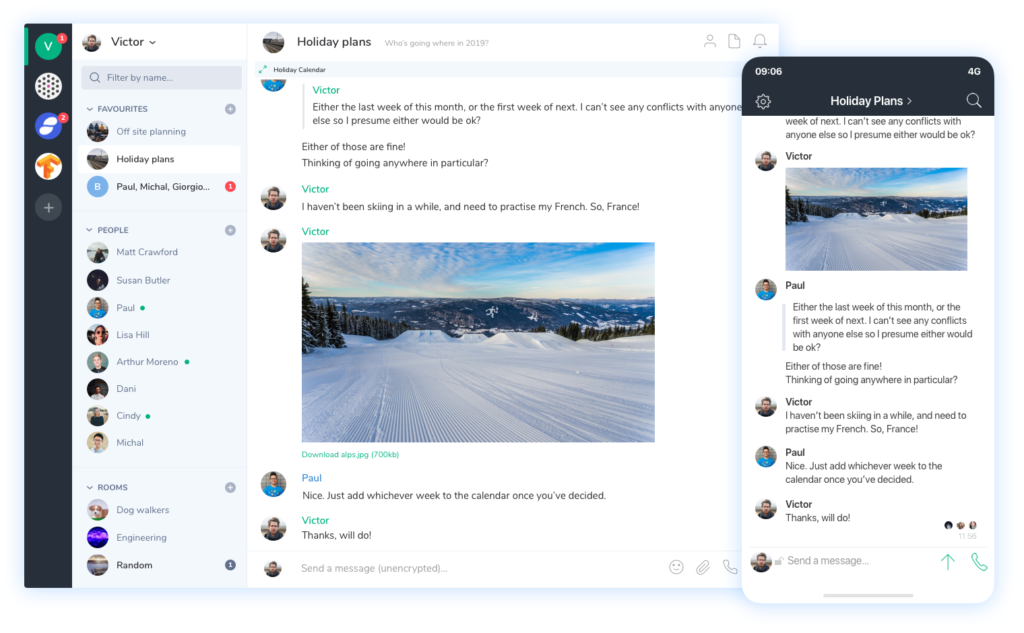 Official Website: https://riot.im/app/
Pricing: Free for everyone
Trusted By: Status, Tezos, Tadhack, & more.
Also Read: Top 30 Instagram Hashtags to Increase Likes in 2020
Popular Tags: Top tools for designers to work from home, best technology for working remotely, work from home tools, remote work tools, communication tools for working from home, work from home toolkit, how to work remotely from home, work from home technology, working remotely tips and tools, corona work crisis, corona impact on work